As we get older, living our life to the fullest can be daunting as we struggle with our changing bodies - from sagging skin to wrinkles. You do not have to live with these imperfections, however, and we can help you get back to being the best you can be. Morpheus 8 will give you noticeable results after just a few days and improvements will continue for up to three months. The progressive treatment is suitable, safe and effective for all skin types.
Book Consultation
Talk to our expertsHave a consultation with one of our experts to see how Morpheus 8 can help you
Get your desired treatmentHave your treatment to reduce fat and tighten your skin in a daytime visit.
Safe & effective treatmentSmooth and sleek results for all skin types
Non Surgical Body Sculpting – Morpheus 8
Morpheus 8 is a revolutionary treatment which fractionally remodels and contours your face and body using microneedling and radio frequency by penetrating deep into your skin and fat and giving you an enviable smooth and sleek appearance.
Results from Morpheus 8 become noticeable after just a few days and will be close to their very best after around three weeks, although you will continue to notice improvements for up to three months after your treatment.
Morpheus 8 is safe and effective for all skin types and we would recommend 2-3 courses of treatment for the best, most effective results.
If you are looking for a solution to severe cellulite, we offer CelluTite treatment at Cambridge Clear Beauty which usually has a treatment time of four hours. Contact us to find out more. 
Used to improve

Face, Neck Wrinkles & loose, saggy skin

Time in theatre

2 – 4 hours

Anaesthesia

Local Anaesthetic

Hospital stay

No stay
Recovery

1 – 2 days (improved results 3-6 months)

Costs

From £975

Follow up

up to 5 included

Does it last

Yes
As a plastic surgeon Mr Ahmad has high standards and uses Morpheus 8 on many patients as he knows the quality of the results which people receive.
It is a safe treatment for all skin types and leaves patients of the clinic with the smooth skin that they deserve. As a facial plastic surgeon, Mr Ahmed has both the knowledge and experience to recommend the right treatments to each individual and carry those treatments out to a high standard.
Why choose
Cambridge
Clear Beauty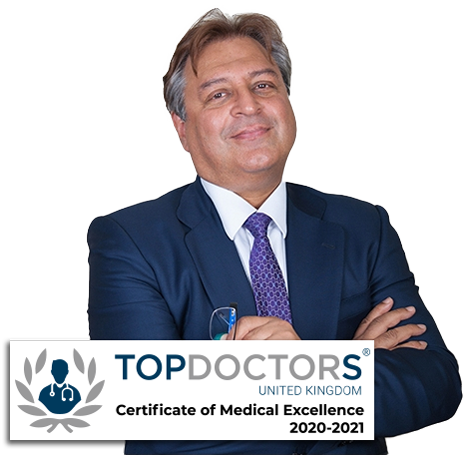 Experience
Over 500+operations performed
Mr Ahmad has over 25 years of  experience in facial surgery and procedures. He operates on children born with cleft lip and palate so you can trust that he really knows the anatomy of your face.
Trust
4.9
Based on 179 reviews
You can feel confident that he will take the time to understand your issues and be reassured that he has the experience to address your concerns. Have a look at our verified testimonials.
Our Promise
Mr Ahmad will never push you to any procedure or treatment and our philosophy is to look after you before, during and after your treatment. Mr Ahmad will listen and give you the knowledge to make an informed decision, in your own time.
Click here the learn about Morpheus 8 Aftercare
Post Treatment Expectations/possible side effects
Erythema (redness) 1-3 days
Possible edema (localised swelling) up to 1 week
Tiny needle holes/scabs may appear, lasting for a few days
Possible bruising
Downtime few days – 1 week, depending on treatment parameters, patient skin type & treatment response/side effects
Post Treatment Aftercare
Use an antiseptic product (e.g. Clinisept) immediately following treatment & for up to 1-3 days, or until needle holes have closed
Can cool skin post treatment to reduce discomfort/heat, with clean cooling method
Use only tepid water and clean hands to clean face on first night
Avoid using make-up for 1-3 days post treatment, until needle holes close (only Oxygenetix make-up may be used until then) Use new/clean applicators.
Avoid touching treated area (clean hands first if necessary to touch)
Once holes have closed you may use your usual products – though avoid exfoliating/retinol based products until any scabs have healed
Use an SPF moisturiser daily once holes have closed (with factor 30+) & for at least 4 weeks post treatment, but ideally ongoing for best results
Avoid significant sun exposure or sunbeds for approx. 4 weeks post treatment
Moisturise the skin if itchy during healing and do not pick scabs
Infection Control
If you have any concerns following treatment with MORPHEUS 8 please contact your practitioner immediately.